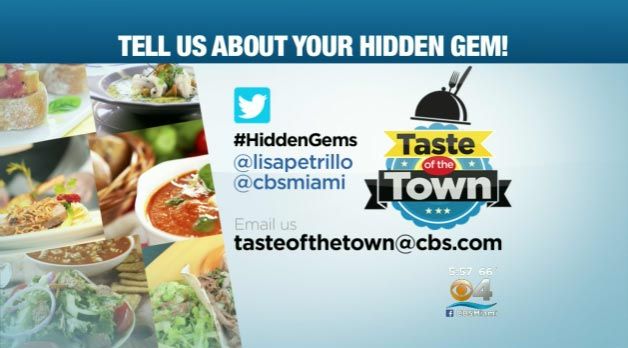 MIAMI (CBSMiami) – There's a lot going on in the busy kitchen at Zaika. Sauces are cooking, bread is baking and the aromas of fresh spices fill the air in this hidden gem in North Miami.
Zaika offers a new style of authentic, modern and traditional Indian dishes from all of the flavors of the country.
It all begins with the name, which means "sense of flavor."
"Zaika is sense of flavor, so me and my chefs wanted to do something different than regular Indian restaurants," said Manoj Patel, one of the owners of Zaika.
The food represents the many regions of India from the far north to the south.
"In the north, food is more creamy. And the southern part is more coconut based, a bit spicier, there's bay leaves and curry which at leaves strong flavor," said Manoj.
The restaurant, owned by Manoj and his three friends – two of them are the chefs – has become quite the hot spot for locals and those who venture out to try these one of a kind dishes.
"We feel so happy to be here. Before we were nervous, this is a new place for us. Then I talk to my partners. If the food is good, the people are going to follow you, and they have," he said.
Back in the kitchen, the chefs prepared quite the tasting menu.
The handmade naan bread cooks in traditional clay ovens with a slap to the side.
CBS4's Lisa Perillo's first tasting dish was the herb marinated, charred lamb chops.
"It's just bursting with flavor. I can taste the turmeric. There's a slight taste of ginger cooked perfectly and at the very end there's some kick," Petrillo said.
Vegetarian dishes also fill the menu.
Petrillo tried the okra, which is stirred fried with onions, tomatoes, fresh herbs and spices.
"I don't think I've had okra before. It's an interesting vegetable and it's got a tomato base in it. Soft bread we saw baking in there like a veggies sandwich. Really good," Petrillo said.
Plate after plate, exotic dishes filled the table.
There is a delicious malai kabob-chicken with cream cheese and herbs and a chicken tandoori with yogurt, red and black pepper, ginger and garlic.
"I taste the red pepper on top and the yogurt that gives it softness and then it's right into bone which gives it another special flavor," Petrillo said after tasting.
Zaika is a truly unique dining experience bringing the best of regional Indian cuisine to the heart of North Miami.
Zaika is opened six days a week from Tuesday through Sunday for lunch and dinner.